SERVICES
At SKN, we know that beauty is more than skin deep.  We offer a wide variety of safe, effective injectables and procedures designed to enhance your unique features and increase your confidence and glow.
Neuromodulators
Botox ®️ and Dysport ®️ are used to relax the muscles that cause frown lines, forehead lines, crow's feet, and other overactive muscles. Results start to be visible after 2-3 days but fully set after 2 weeks. Both Botox and Dysport last up to 3-4 months. LEARN MORE ⟶
Dermal Fillers
Fillers can be used in lots of places, including your lips, cheeks, chin, and more. The results are immediate and last from 6 – 18 months, depending on the product and the area treated. LEARN MORE ⟶
Kybella
Kybella ®️ is a deoxycholic acid injection that permanently dissolves excess cells. It's FDA-approved to be used under the chin—AKA the "double chin" area. You can also use Kybella on any fat: armpit fat: bra line fat, knees, thighs, arms, etc. Kybella is helpful for patients with stubborn excess fat, but it doesn't treat loose skin—it only destroys fat cells. LEARN MORE ⟶
Sculptra
Sculptra Aesthetic addresses the underlying causes of facial aging, not just the symptoms. It is a poly-L-lactic acid (PLLA) collagen stimulator that helps restore the deep, underlying structure of the skin to diminish facial wrinkles. Sculptra Aesthetic works by increasing your body's own collagen production and restores your skin's inner structure and volume. LEARN MORE ⟶
Wellness Injections
IM injections are delivered directly to the muscle, which allow the molecules to be absorbed into the bloodstream over a sustained timeframe. Delivering nutrients this way allows the injection to bypass the first-pass metabolism as well as avoid gastric factors. LEARN MORE ⟶
Sknny IM Shot
This Methionine Inositol Choline (MIC) injection consists of a formula of B12 and lipotropics, compounds that help break down fat. The primary compounds in the formula–methionine, inositol, choline–work to metabolize fat cells and assist in the elimination of stored fat deposits in the liver and body. Methionine is an essential amino acid, inositol is involved in proper cell formation, and choline is a water-soluble nutrient that supports proper liver function. Together they may encourage fat reduction and provide a handful of other benefits, some of which include:
Helps Increase Metabolism
Supports Liver Detoxification
Helps to Improve Sleep
Promotes Stronger Hair
Aids in Better moods
Improves Energy Levels
SKN IV Infusions
IV Infusion Therapy helps replenish your body with hydration and nutrients, quickens recovery post treatment, slows the signs of aging, and helps to boost immunity. LEARN MORE ⟶
Ask about our Bridal Packages and Botox Parties!
PDO THREAD LIFT
PDO thread lift is used to help lift and tighten loose skin, while also stimulating collagen production. PDO thread lifts also improve skin's texture for long-lasting results by minimizing the appearance of fine lines and wrinkles. Once the PDO suture is anchored in the skin, it stimulates neocollagensis, which helps to replace collagen that is lost with aging. LEARN MORE ⟶
PDO SMOOTH THREAD
PDO smooth threads can be used in different areas of the face to increase collagen growth and help to smooth fine lines and wrinkles. PDO thread lifts are directed towards patients who experience moderate to advanced skin laxity. Whereas, the PDO smooth threads will be more for patients with mild to moderate skin laxity. LEARN MORE ⟶
PRP Hair Restoration
Hair loss is a common concern we see and can be really discouraging. It is caused by genetic factors, environmental factors, hormones, androgens, and unknown causes. PRP for hairloss is a great way to stimulate the hair follicle and promote hair growth. The treatment is done in 3 steps. We draw a tube of blood, spin it down in the centrifuge to extract PRP, and then the PRP is injected directly into the scalp, triggering hair growth and providing an effective, natural remedy for hair loss. The results take time and require 3-6 consecutive treatments 4-6 weeks apart.
LEARN MORE ⟶
RF Microneedling
Legend Pro RF is the latest cutting-edge technology in skin regeneration, resurfacing, and tightening.  It stimulates the regeneration of new collagen and elastin, smoothing wrinkles and resulting in tighter, younger-looking skin.  Plus, it rejuvenates the superficial skin layer, improving a dull or dry complexion and reducing sun damage, hyperpigmentation, brown spots, and acne scarring.  Legend Pro RF also tones and firms the SMAS layer, reducing skin laxity, as it regenerates new skin and improves overall skin tone and texture.  LEARN MORE ⟶
IPL
Stellar M22 is a non-invasive intense pulsed light procedure that targets skin damage from age, excessive sun exposure, or other factors.  This treatment corrects sun spots, age spots, and other pigmentation irregularities, including broken capillaries, redness due to rosacea, and hemangiomas.  LEARN MORE ⟶
IPL Photofractional Treatment
The IPL Photofractional procedure combines two treatment solutions: IPL (intense pulsed light) and ResurFX non-ablative skin resurfacing to simultaneously treat skin tone and texture. The treatment corrects pigmentation irregularities, broken capillaries, redness due to rosacea, fine lines, acne scars, and uneven texture and skin tone.
Resurfx
Stellar ResurFX is a non-ablative fractional laser treatment to improve skin tone and texture, fine lines and wrinkles, acne or surgical scars, stretch marks, and more.  LEARN MORE ⟶
SmoothGlo
SmoothGlo is a sequential treatment that targets the three biggest signs of aging skin – tone, texture, and volume. By addressing all three areas in one session, SmoothGlo patients are able to dramatically reverse the visible signs of aging and enjoy a brighter, more youthful glow.  LEARN MORE ⟶
AviClear Acne Treatment
AviClear is the first and only FDA-cleared device for treating mild, moderate and severe acne. Treatment is safe and effective for all types of skin and skin tones.  LEARN MORE ⟶
Laser Hair Removal
Ideal for all skin types and tones, SPLENDOR X is a laser hair removal procedure that is safe, effective, and permanently reduces hair.  SPLENDOR X combines alexandrite and Nd:YAG wavelengths for a perfectly tailored treatment that's fast, effective, and comfortable.  LEARN MORE ⟶
Leg Vein Treatment
A non-invasive laser treatment to eliminate the appearance of varicose veins and spider veins of the legs.  LEARN MORE ⟶
SkinPen
Micro-needling is a minimally invasive skin rejuvenation procedure that helps minimize the signs of aging. SkinPen causes controlled micro-injuries that stimulate your body's natural wound healing process. The micro-injuries trigger the release of cytokines and growth factors that lead to collagen growth. It evens out your skin tone and texture, improves fine lines and wrinkles, pore size, and acne scarring. LEARN MORE ⟶
SkinPen with PRP
PRP (Platelet Rich Plasma) is a groundbreaking revolution in science and the medical field that is using the nutrient rich cells and growth factors in platelets to improve and accelerate results in collagen and elastin formation and skin remodeling. 
The treatment starts with a blood draw with a butterfly needle. The blood is then put into a centrifuge and then spun down to separate your platelets from the plasma yielding our "liquid gold," PRP. It is drawn up into a syringe and applied to your skin as the glide during the microneedling treatment. This allows the PRP to penetrate into the microchannels created by the SkinPen which is going to give amazing results and help your skin remodel beautifully.
Perfect Derma Peel
The Perfect Derma Peel evens out your skin tone and texture, improves acne scarring and hyperpigmentation, and instantly gives you brighter, softer, more glowing skin. The skin is prepped with acetone; then, the peel is applied and washed off after 6 hours. You'll leave SKN with a care package that includes instructions on how to care for your skin after your peel. Then, the peeling begins in a few days!
ZO 3 Step Peel
An innovative, in-office treatment peel followed by an at-home treatment to combat the signs of aging + skin discoloration. The treatments utilizes a blend of exfoliants, retinol and multi-action agents to help improve skin health and treat many signs of aging. The special formulation provides antioxidant protection as well as anti-irritant benefits.
Signature HydraFacial
This treatment deep cleans, exfoliates and rehydrates using HydraFacial's patented vortex fusion technology and super serums, followed by LED lights to infuse the products.
Clarifying HydraFacial
This treatment includes everything from the Signature HydraFacial plus a clarifying booster and extractions.
Diamond HydraFacial
This treatment requires at least one previous HydraFacial treatment in clinic before booking. This facial includes the most aggressive physical exfoliation using a wet diamond, microdermabrasion tip.
Dermaplaning HydraFacial
This treatment offers everything from the Signature HydraFacial and begins with dermaplaning exfoliation. Dermaplaning removes the top layer of skin, by using a medical grade scalpel, providing great exfoliation while also making the serums infuse deeper into the skin; giving you a more effective treatment while maximizing your glow.
For the Man
Our SKN signature male facial is specifically tailored for male skin. After deep pore cleansing with invigorating exfoliation and extractions, you will experience the benefits of a customized treatment specifically tailored to your skin needs. Have facial hair? No problem. Our licensed aesthetician uses a more aggressive tip to reach the skin beneath the hair. The facial is ended with our Men Solo Hydrating Defense serum by SkinBetter Science that is specifically engineered to protect the male skin from daily signs of aging.
Keravive HydraFacial Treatment
Keravive benefits anyone who wants to improve their scalp health. Its especially helpful to men and women experiencing dry, itchy, irritated scalps or hair loss.
Boosters
Neck & Chest
Lymphatic Drainage
Dermaplane
Extractions with Blue Light Therapy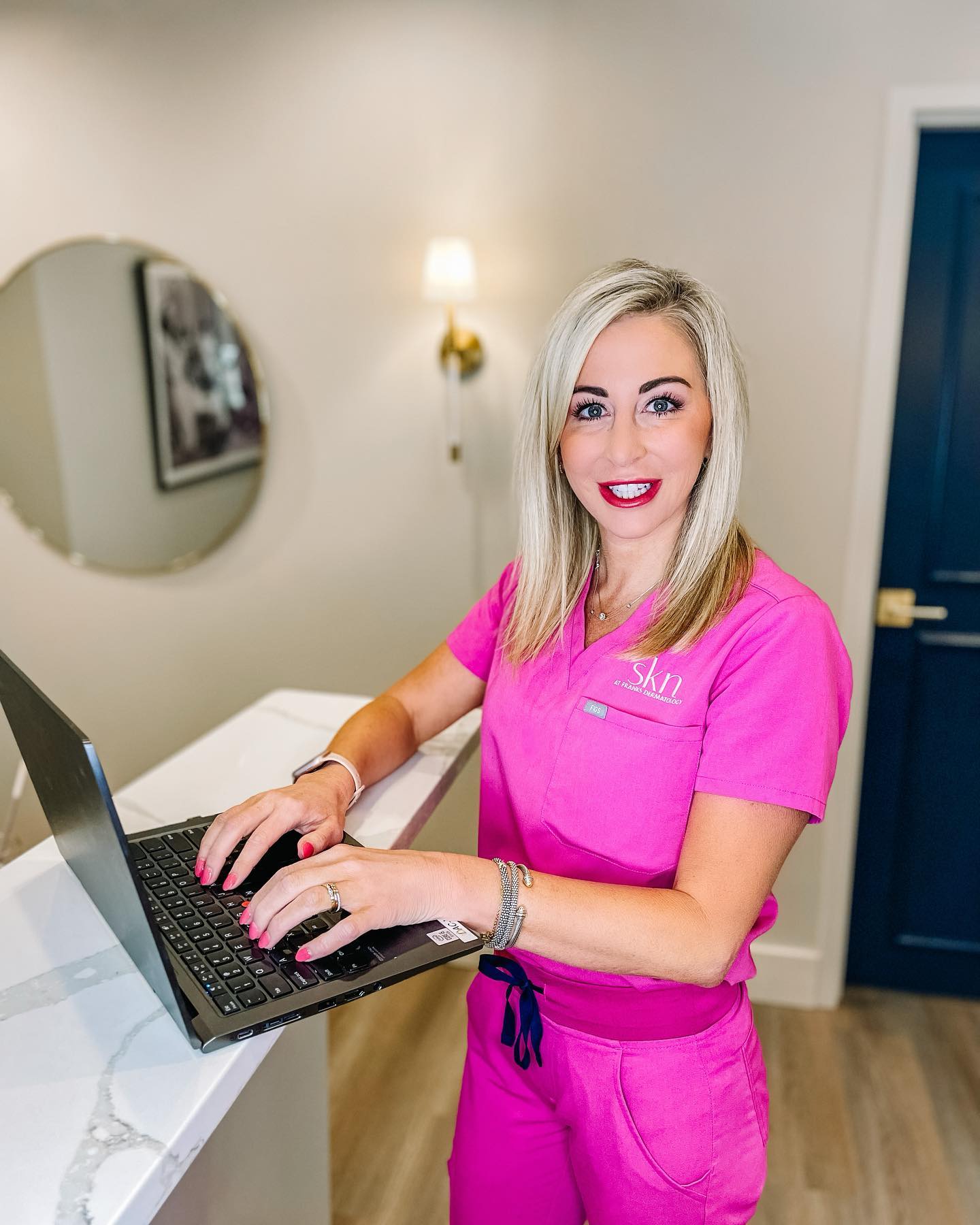 We offer in-clinic and virtual consultations with a SKN provider who will take the time to listen to your goals, assess your skin and prescribe a plan just for you.
CANCELLATION POLICY: In the event you need to reschedule or cancel your appointment please do so 24 hours prior to your scheduled appointment time. No shows and cancellations less than 24 hours prior to your scheduled appointment time will be subject to a rescheduling fee of $100 in order to schedule a future appointment at SKN. The rescheduling fee will not be applied to future appointments, products, or services. Please note, arriving late may result in a reduced appointment time or rescheduling at the discretion of SKN at Franks Dermatology.
SKN at Franks Dermatology
Location
Simmons Bank Plaza Building
4220 North Rodney Parham Rd., Suite 102
Little Rock, AR 72212
Phone + Information
Clinic Hours
Monday – Thursday: 8:30 – 5:00
Friday: 8:30 – 2:30