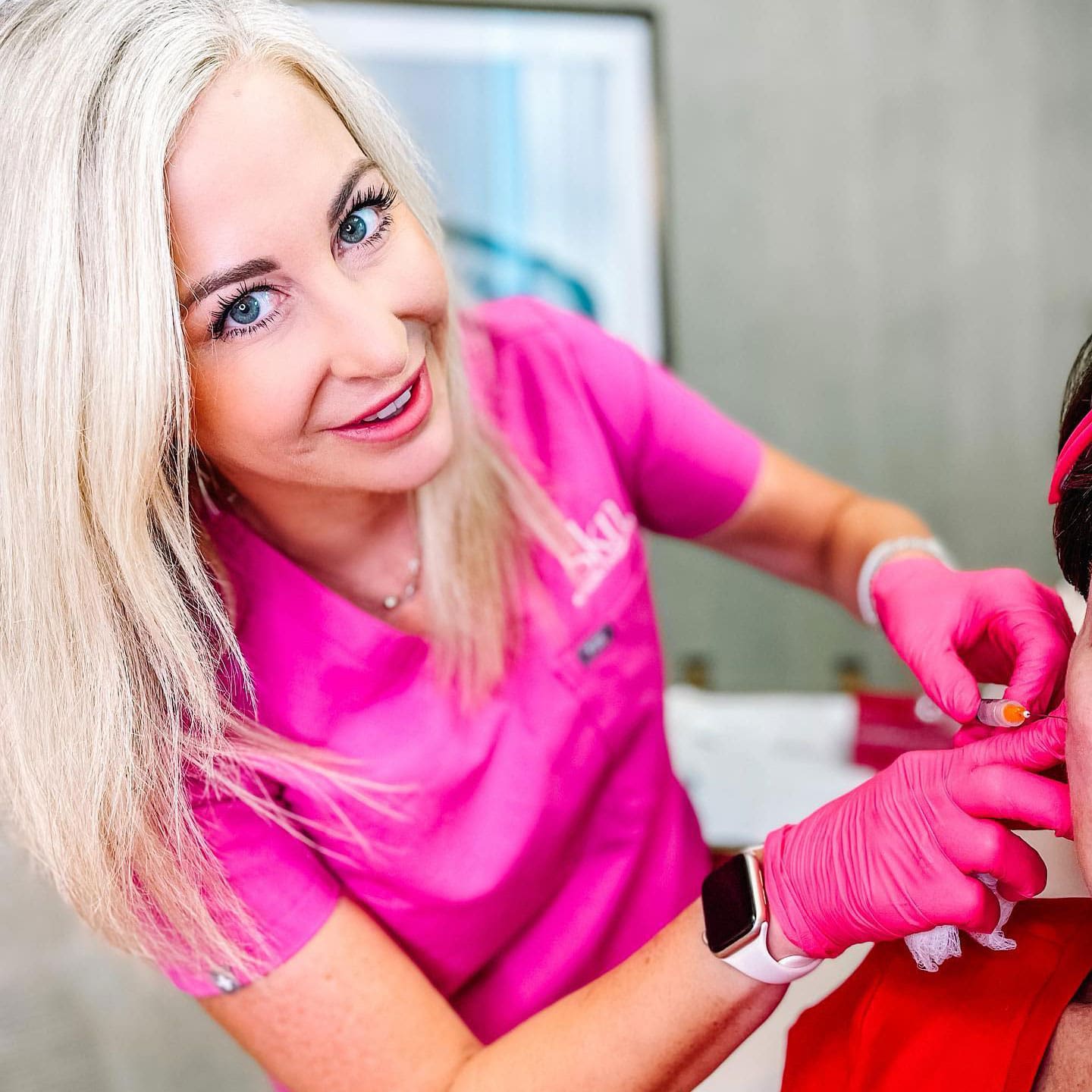 New Year, New Skin!
As published in Little Rock Soireé, January 2023
When it comes to New Year's resolutions, self-care should be at the top of the list—but skincare often takes a backseat to more popular resolutions like eating healthier or starting a new exercise routine. Here are some methods Rachel Sims, RN and her team at SKN at Franks Dermatology recommend to make your skin health a priority this year.
Start a consistent medical-grade skincare routine.

Medical-grade products are developed through clinical research, and the amount of active ingredients—in other words, the stuff that's actually going to make changes in your skin—is much higher than what over-the-counter products are legally able to contain. They also penetrate the skin better, helping jump-start your path to healthier, glowing skin.

Schedule routine HydraFacials.

Our Signature HydraFacial treatment deep-cleans, exfoliates, and rehydrates the skin. You can see and feel the results instantly! Routine HydraFacials give your skin a healthy, radiant glow by improving the complexion and texture of your skin.

Swap the razor for the laser.

Be hair-free by summer with laser hair removal performed by our expert techs. Laser hair removal uses heat to cause damage to follicles, which prevents hair growth and saves you the pain of shaving, ingrown hairs, and skin irritation.

Treat sun damage.

If you have noticeable sun damage, try one of the following treatments (and vow to wear sunscreen this year):

Intense pulsed light (IPL) procedures correct pigmentation irregularities, broken capillaries, redness due to rosacea, and uneven skin tone and texture.

Chemical peels improve your skin tone and texture, correct discolorations, smooth fine lines, and give you a brighter, more radiant appearance with minimal downtime.

Microneedling stimulates your body's natural wound healing process, triggering the release of cytokines and growth factors that lead to collagen production. This treatment evens out your skin tone and texture by improving the appearance of fine lines and wrinkles, enlarged pores, and acne scarring.

Drink more water.

When we don't drink enough water, our skin shows it! Dehydration can cause skin cells to shrivel, making fine lines and wrinkles more noticeable. When we're fully hydrated, on the other hand, we have more plump, dewy skin.
A healthier you includes healthier skin. Schedule a consultation with our team online or by calling (501) 859-8973 or visiting sknatfranksderm.com. Happy New Year, and happy new you!
SKN at Franks Dermatology
Location
Simmons Bank Plaza Building
4220 North Rodney Parham Rd., Suite 102
Little Rock, AR 72212
Phone + Information
Clinic Hours
Monday – Thursday: 8:30 – 5:00
Friday: 8:30 – 2:30